About Ozeki Informatics Ltd.
On this page you will find a brief introduction on our company and facts about our products. You can also know our offices where our colleagues work.
SMS-integration.com was launched by Ozeki Informatics Ltd. The aim of this website is to help you add SMS functionality to your existing IT system. This site provides information on general tools for SMS integration, and it presents popular solutions on how to improve your IT environment with SMS technology. You will also find helpful video tutorials and step-by-step installation guides to help you setup one of these solutions.
Ozeki Informatics Ltd. is a dynamically growing company based in Budapest, Hungary. It was established in year 2000, and it is a leader in PC based mobile messaging software products. Our software product is widely used by businesses and individuals to increase productivity, flexibility and reliability. In this way we revolutionizing the way computers, IT systems and people using cellphones to communicate with each other.
Our product portfolio ranges from software developer tools and corporate mobile messaging alerting solutions to mobile content provider systems. We work with integration partners and resellers from all over the world. If you feel, that you could profit from promoting our solutions listed on this website, let us know, and we will give you all the necessary information to help you get started.
Our offices are located in Budapest and Debrecen, Hungary. You can contact us during business days at the following address:
Debrecen Office location information: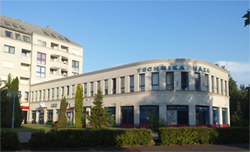 Debrecen Office:
Office address: Nagy Lajos király tér 1-4,
Debrecen, Hungary, H4032
Office telephone: +36 1 371 0150
E-mail: info[at]ozekisms.com
Office hours: Monday to Friday, 9 a.m. to 5 p.m. CET