How to send SMS text messages to Active Directory users
Active Directory ensures network services for businesses to achieve information security and easy access to corporate data. It is widely used by organizations, however, its effectiveness still can be increased. With the integration of an impressive application, SMS functionality can also be added in order to send SMS text messages to Active Directory users. Learn more about the solution and find the configuration guide on these pages.
What is Active Directory?
First of all it needs to be cleared what directory services are. A directory service stores, organizes, and provides access to information in a directory.
Active Directory (AD) is a technology that offers a wide variety of network services if it is integrated with other applications. In this way services such as DNS-based naming and other network information, central location for network administration and delegation of authority, information security and single sign-on for user access to networked based resources, etc can be achieved.
Active Directory is developed by Microsoft and is used primarily in Windows systems. Integrated with other applications, it makes it possible to administrators to assign policies, deploy software, and apply critical updates to organizations. It stores information in a central database. AD networks can include only a few computers or they can be networks consist of thousands of computers and users.
Now learn how you can increase the efficiency of such a network and how to implement the solution...
How can you introduce SMS functionality in your IT system...
Much higher results can be easily achieved in your organization by introducing SMS functionality. If you employ Active Directory you can already enjoy some benefits regarding accessibility to corporate information. Though, this process can be further enhanced with the proper technology...
...And this technology is SMS technology.
Implementing SMS technology will ensure easy and quick access to information by contacting Active Directory users in real-time. Therefore, an effective and well-functioning information network can be build in your organization based on SMS functionality.
In practice SMS functionality means that users can send SMS text messages from a web site to the mobile phones of other users ensuring a real-time and fast communication. In this way data and other information can be sent among the users.
And how to realize SMS functionality?
SMS functionality can be achieved with the implementation of a powerful SMS software that is able to handle SMS text messages. Such a software is Ozeki NG SMS Gateway that is a software product and can be installed on the computer.

Ozeki NG SMS Gateway can be obtained by opening the download page: Download Ozeki NG SMS Gateway!
How will the SMS system work?
After downloading Ozeki NG SMS Gateway you can start to build your SMS system to send messages to Active Directory users. The process will be the following:
On the sms configuration page you can learn how to create the web site that will allow sending messages to other users. You just need to enter this site with your login name and password and you can select Active Directory users to whom you wish to send SMS messages. Only those contacts can be selected who have entered their mobile phone number at Mobile field. Then you can write your message and by clicking on Send message button. Ozeki NG SMS Gateway will process messages and forward them to the respective users (Figure 1).
To get more detailed instructions on how to setup this solution please go to configuration page.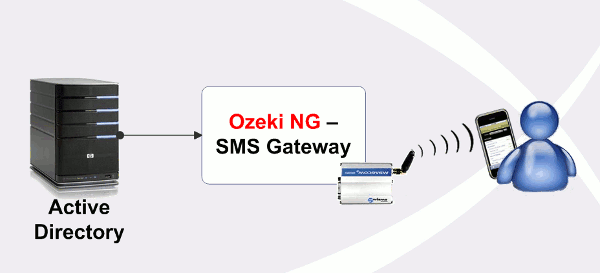 If you have any further question please contact us at info@ozekisms.com
Summary of Active Directory SMS solution
To ensure a reliable, fast and instant corporate system you need to implement the right application that further enhance your existing system. Ozeki NG SMS Gateway is able to meet the requirements of businesses and organization since it ensures a noticeable development in accessibility and improvement in corporate communication.
Download Ozeki NG SMS Gateway right now to test its effectiveness >>>
Related sources: